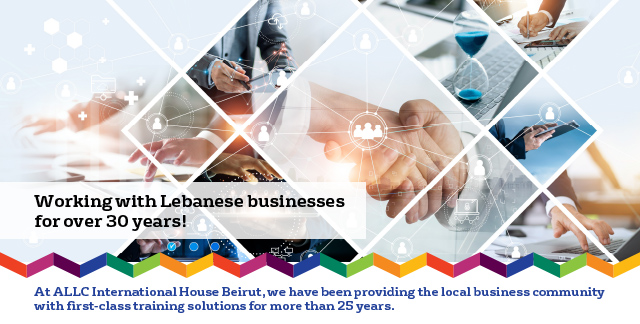 Flexible language training delivered in your company
International House Beirut are experts in delivering tailor-made corporate language courses at our clients' place of business. Our experienced teachers design high-impact language training programmes targeting your specific needs and deliver them around your schedule.
Choose from English, French, Spanish, German, Italian, Portuguese and Arabic, at any level from beginners upwards. Other languages are available on request.
Experienced Business English Teachers
At International House Beirut we've been teaching Business English for over 30 years. Our qualified English teachers with business experience will push you to achieve the best results.
Our teachers are experienced, knowledgeable and passionate about teaching. At International House Beirut, you can be confident that you're getting the best teaching Beirut has to offer.
The right course for your level of English
Before placing you in a class we ask you to complete our English language placement test.
The test can either be done at one of our centres (IH Beirut/IH Saida) or
online
– this is then followed by a short face to face speaking test at our centre, at which point we will recommend a course of learning to suit your needs. Alternatively, arrangements can be made to carry out placement testing at our clients' premises.